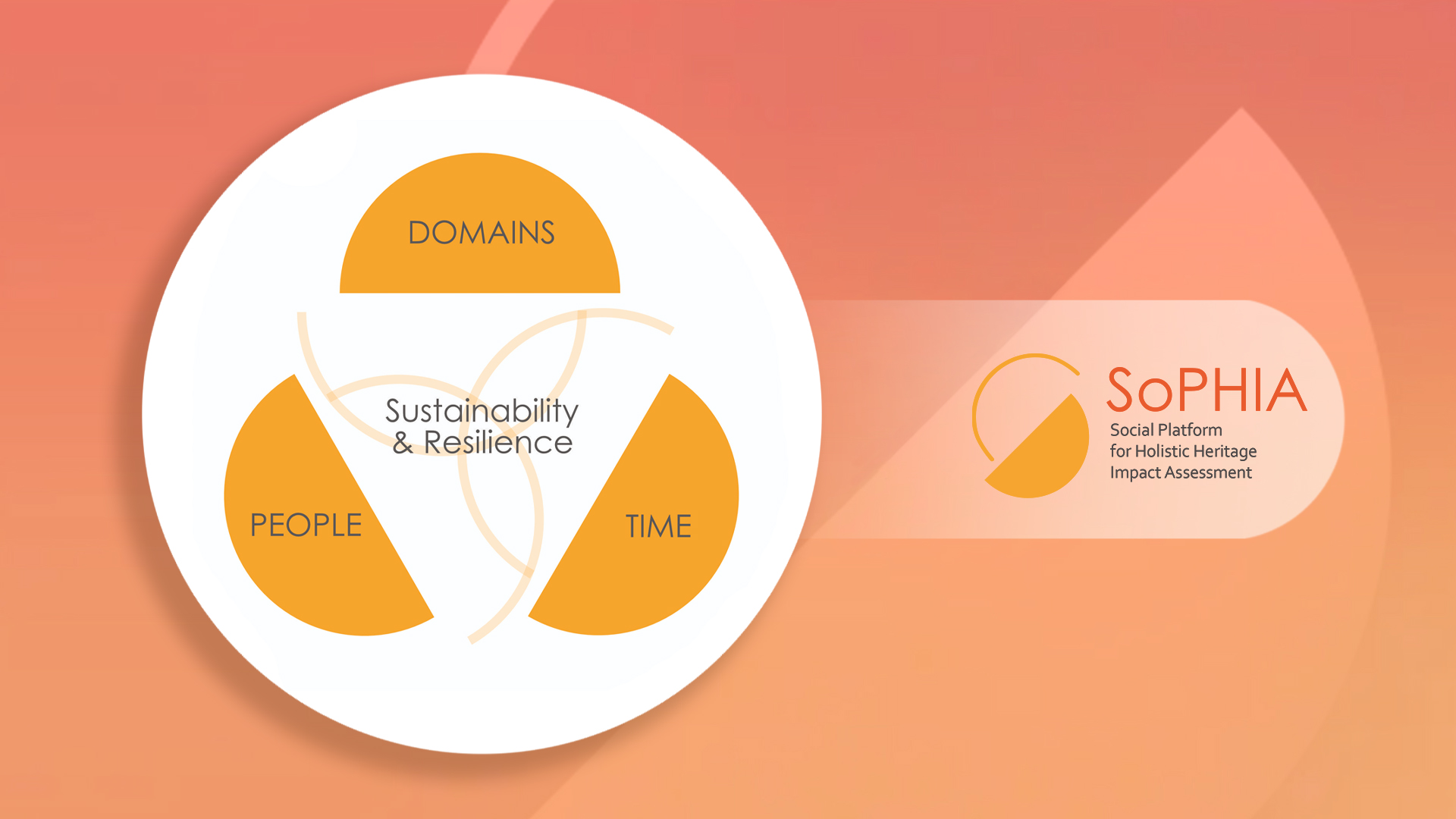 The SoPHIA Holistic Heritage Impact Assessment Model, a key deliverable of the SoPHIA project has been developed in coordination with the consortium. The draft model was tested through its application on 12 case studies, findings of which were summarised in D2.2. In April 2021, SoPHIA invited researchers, practitioners, policymakers and other stakeholders to a collective reflection on the diverse impact of cultural heritage, and the discussion contributed to the Model's development over the following months.
In the recent past, there has been a policy emphasis on deeper reflections on desired, expected, and non-causal impacts of cultural heritage interventions. This phenomenon can be seen in relation to the growing acknowledgement of the role of cultural heritage in sustainable development. Sustainability and resilience were therefore recognized as the key objectives of the SoPHIA Model. They highlight the role cultural heritage can play in today's interconnected world, and justify the need for a holistic impact assessment model in the broader context.
The model itself adopts a three-axis approach that highlights the quality of interventions in cultural heritage, and links high quality interventions and their impact, while also ensuring assessment that considers sustainability and resilience at the core of impact. The people axis considers both the actors who promote the assessment, as well as the stakeholders engaged in the process. The time axis considers the stage of the intervention at which the assessment takes place. Finally, the multi-domain axis represents six themes of potential impact that have been recognized through the course of research, as the ones that need to be considered when a cultural heritage intervention is under assessment.
The multi-domain character of the SoPHIA Model can be considered as an "open" panel with flexibility in its use: the 6 themes and 28 respective subthemes are not a mandatory minimum requirement for the assessment, but are of a demonstrative nature, capturing the essence of the 6 themes. Their aim is to show the whole spectrum of issues, with their connections and relevant measures. The interconnectivity between the themes is a key innovative feature of the model, and is reflected in the cross-cutting issues and counter-effects within each subtheme. They reflect the connections between the various levels of impact, and together with the people and time axes under consideration, add value to the holistic nature of the SoPHIA Model.
The Model has been developed for the use of cultural managers, researchers and policymakers. Guidance regarding its use will form part of the forthcoming SoPHIA Toolkit, as well as an exercise for visualization.

Share this Post