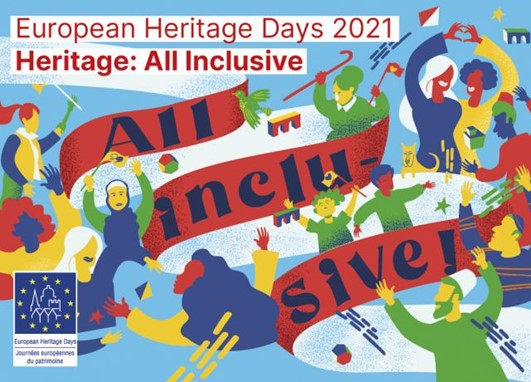 The European Heritage Days 2021 (EHD) have started again in September. Following this year's theme "Heritage: All Inclusive", Europe celebrates its cultural heritage (CH) with festivities, events, and access to heritage places usually closed for the public.
The purpose is to reach a wide public and stimulate their relation to European CH, present the continent's cultural richness and celebrate its diversity. By doing so, the events encourage the participants to leave the comfort zone and get acquainted with the variety of cultures Europe has to offer, i.e. reducing prejudices against the unknown and countering racism by fostering tolerance. Besides the public dimension, the EHD also aim at raising awareness among the political authorities for the need to protect CH in a sustainable way and to react to the social, political and economic challenges of the cultural sector.
The organisation of the EHD is planned country wise. The type of CH and the approach to it can vary from concerts with traditional music, presentation and tastings of a specific cuisine, access to representative buildings from past époques, or a connective, societal approach to link, for instance, heritage and youth. A Toolkit has been developed with tips and case studies to design inclusive and accessible events and activities.
The action is organised every year by the European Commission in collaboration with the Council of Europe. With 50 participating countries which are part of the European Cultural Convention, the EHD can be named among the most widely celebrated cultural events open for participation in Europe – over 20 million people use the opportunity to access thousands of rarely opened sites and exceptional events every year.
Share this Post